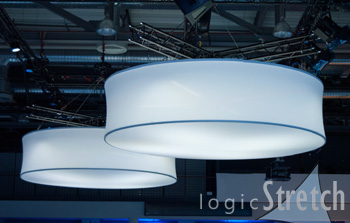 OVERVIEW :
Efficaces et fonctionnels, les DISK et DISK 3D peuvent être utilisé à la fois en objet de décoration, et en objet de surface. Les DISK donnent aux pièces une dimension stylisée très marquée !

Les DISK sont disponibles en trois tailles différentes et peuvent être utilisées en décoration, en mur ou même en plafond.


Important: a TRUSS structure is necessary for the fixture of the DISK 3D. It is not provided.

Toutes nos toiles peuvent être imprimées. Contactez-nous pour établir un devis individuel.
REFERENCES:
Ref. LS-DISK-50 - LOGIC DISK 3D 0,50 - 0,50m x 0,25m
Ref. LS-DISK-100 - LOGIC DISK 3D 1 - 1,00m x 0,40m
Ref. LS-DISK-200 - LOGIC DISK 3D 2 - 2,00m x 0,50m









AVAILABLE COLORS :

PRINTING
All fabrics can be printed individually with a company logo, advertising slogan or a photo to provide a perfect corporate design. Make your fabrics shine! Contact us for an individual quote.
LIGHTING
The illumination of this product is possible using a battery or a connection to the electrical grid.
PHOTO GALLERY
Click on the images to enlarge them :
Contact & Quote