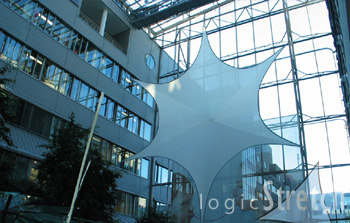 OVERVIEW :
Toiles à 6 pointes innovantes conçues en textile easy strech. Large choix de taille et couleurs. Utilisation : élément décoratif, para-soleil, surface de projection... Nos toiles sont une synthèse de fonctionnalité et de décoration.

Toutes nos housses peuvent être imprimées individuellement d'un logo, d'un slogan ou tout autre photo publicitaire, permettant un marketing visuel élégant lors de vos évènements. Appelez-nous pour établir un devis.

Les avantages des toiles 6 pointes en un clin d'oeil :
Fabrique facile à entretenir
Lavables, inutile de repasser
Peu encombrantes
Utilisables comme objet de déco design ou surface de projection
Peuvent servir à compartimenter des espaces
Peuvent servir de surface de projection à l'avant et à l'arrière
Options de combinaisons illimitées
Facile d'utilisation et de mise en place
Customisable avec impression de logos, slogans etc
---
6 PTS SAILS : MAYOTTE
Available references

Ref. LS-MAYOTTE-1 - 2,50m x 3,00m
Ref. LS-MAYOTTE-2 - 1,25m x 1,50m



---
6 PTS SAILS : PEMBA
Available references

Ref. LS-PEMBA-1 - 3,00m x 3,00m x 4,25m
Ref. LS-PEMBA-2 - 1,50m x 1,50m x 2,10m



---
6 PTS SAILS : SEYCHELLES
Available references

Ref. LS-SEYCHELLES-1 - 3,00m x 2,00m
Ref. LS-SEYCHELLES-2 - 1,50m x 1,30m



---
AVAILABLE COLORS :

---
PRINTING
All fabrics can be printed individually with a company logo, advertising slogan or a photo to provide a perfect corporate design. Make your fabrics shine! Contact us for an individual quote.
LIGHTING
The illumination of this product is possible using a battery or a connection to the electrical grid.
PHOTO GALLERY
Click on the images to enlarge them :
Contact & Quote