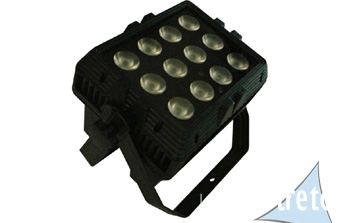 PRESENTATION :
Le PROBAT WP 180 6 EN UN est la solution d'éclairage étanche la plus complète au monde. Autonome sur batterie / dmx, avec telecomande fournie.








CARACTERISTIQUES TECHNIQUES:

1. 5pcs 15W 6 in 1 RGBWA +UV LEDs
2. Battery Powered & Wireless DMX
3. Rechargeable Battery with up to 10 hours of battery life
4. Wireless DMX-512 protocol
5. Built in 2.4G receiver / transmitter for wireless DMX operation
6. 3-pin DMX input and output connectors (Optional: 5 pin DMX)
7. Beam angle: 25 º (Optional: 15º,25º,30º, 45 º,60 º lenses)
8. Electronic Dimming 0-100%
9. Control DMX channels : 3/4/6/9/11CH
10. Operation modes: DMX, Sound Active, Auto Mode and Master/Slave Mode
11. Operation menu with function buttons and DMX control mode
12. Dual bracket for floor stand and / or hanging mount
13. LED display for address and function setting
14. AC power auto ranging (100-240v 50/60HZ) In/Out
15. Dual bracket for floor stand and / or hanging mount
16. Dimensions(L*W*H): 17*17*11cm
17. Weight: 3kg



Accessoires :

Ref Charge Fly - Fly case sur roulettes pour transport de 8 Probat 75 ou 8 Probat WP 180. Equipé d'un système de chargement de batterie integré.


GALERIE PHOTOS
Cliquez sur les images pour les agrandir :
Demande de devis