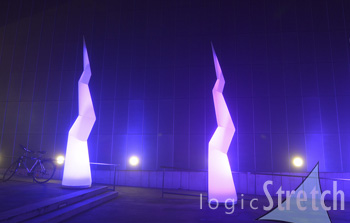 OVERVIEW :
This product was designed for a use in interior as in outside. It will not fail to create a very special environment with its dynamic and timeless design.

Big or small... this product guarantees single and gravitational visual effects.




AIR FLASH :
FLASH 1 (2,40m)

Ref. AIR-FLASH-1
Dimensions: (A) 0,46m (B) 2,40m (C) 0,46m
Weight: 7 kg



FLASH 2 (4m)

Ref. AIR-FLASH-2
Dimensions: (A) 0,76m (B) 4m (C) 0,76m
Weight: 16 kg





NUANCIER / COLOR CHART :

---
THE BASE (indispensable, sold separately):
The AIR Series products are made out of two parts: the BLOWING BASE, and the AIR cover. You will need a BASE to inflate your cover. Please refer to the indicated size on the covers' product page in order to know which BASE size you will need (46cm, or 100cm). Please visit the
AIR BASE product page
for further information.
PRINTING
All fabrics can be printed individually with a company logo, advertising slogan or a photo to provide a perfect corporate design. Contact us for an individual quote.
LIGHTING
The illumination of this product is possible using a battery or a connection to the electrical grid.
PHOTO GALLERY
Click on the images to enlarge them :
Contact & Quote